Exceptional Roof Replacement in Acworth, GA
Roof repairs made easy, backed by quality you can trust.
Reliable Roof Replacement Specialists
The roof of your home shelters, insulates, and adds value to your home. So when it comes to major home repairs, roof replacement is about as serious as it gets. Additionally, having to completely tear-off and reroof your home isn't a project with a small price tag. Finding a company you can trust with that big an expenditure on such an integral part of your home, can end up seeming like an insurmountable task. Here at Mancilla Roofing & Construction, we understand. That's why we make it our business to ensure the roof replacement process is as stress-free and enjoyable for our customers as possible.
Our Guaranteed Roof Replacement Process
Each Mancilla Roofing & Construction roof replacement project starts with a free, no pressure, and no obligation consultation in order to determine your specific needs and budget. In order to ensure accuracy, we provide a written quote within 72 hours of the initial inspection.
Check out our website's home page or Facebook page for current promotions to help cut down on costs so you can get the best roof for your home without having to break the bank.
Once the initial inspection is complete, our team gets to work preparing your property for the roof replacement. We use tarps and protective plywood to make sure your entire property is protected during the process.
After we feel confident that your home is out of harm's way, we begin the process of removing all old roofing materials, including old shingles and flashing.
One of our roofing inspectors will then conduct a thorough inspection of your roof's wood decking. During this process, we make sure the decking is properly attached to the roof rafters and re-nail all the wood decking, as well as replace any wet, soft or rotted wood so your new roofing system stays firmly in place.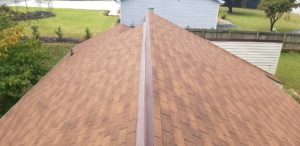 When the wood decking is finished being inspected and prepared, our roofing team beings installing your new roofing system.
We understand that our customers' lives can't stop just because of their roof replacement. That's why our crews of roofing professionals can have your home re-roofed in as little as 1-2 days, depending on the size.
Although roof replacement is a pretty messy job, it's important to us that we leave everything better than when we found it. The only trace we'll leave of our handy-work is your newly installed roofing system, providing superior coverage and beauty to your home for years to come.
In order to simplify things for our roof replacement customers, when you schedule your replacement project with Mancilla Roofing & Construction, we can include seamless gutter system installation so you can rest easy knowing that all aspects of your roofing systems have been properly replaced and installed.
Shingle Roof
Asphalt composition shingles are some of the most commonly used roofing materials in our region. This is because asphalt shingles are most affordable and readily available roofing material. Asphalt shingles are cost-effective, durable, and come in a variety of colors, allowing homeowners to change and compliment the look and feel of their home.
Mancilla Roofing & Construction prides itself on using premium materials. That's why we primarily work with GAF and Owens Corning shingles and accessories for our asphalt shingle roof replacement projects.
Our most popular roofing choice, the GAF Lifetime Shingle system, when purchased with at least 3 qualifying GAF accessories, provides our homeowners with access to a quality roofing system and peace of mind with a lifetime warranty, including non-prorated coverage for the first 10 years.
Whether you're looking to replace your roof with classic 3-tab shingles or designer shingles, our team of roofing professionals can work with any budget and style.
Metal Roof
The popularity of metal roofing is on the rise.
Metal roofing compliments almost any architectural style, comes in a wide variety of colors, is low maintenance, and can last upwards of 50 years. So although metal roofs have a bigger price tag, their long lifespan can actually make them more cost effective, in the long run.
Made of either aluminium or steel, metal roofs are both fireproof and energy efficient.  Whether you're looking to replace a roof on your home, business, or barn, metal roofing can be an excellent and aesthetically pleasing choice.
Our crews install classic rib panels as well as standing seam metal roofing. Our roofing professionals can apply a metal roofing system to both low slope and steep slope roofs.
Commercial Flat Roofs
The term "flat roof" refers to a roof that is almost level, as opposed to pitched. The more popular flat roofing materials that we install are: Modified Bitumen, TPO, and EPDM. Flat roofs are most common on commercial structures, but some homes have roof areas that will require a flat roof membrane.
Call Today!
Our roofing professionals here at Mancilla Roofing & Construction can complete your roof replacement within 1-2 business days. If you're looking for exceptional workmanship, reliable customer service, and fair pricing, call Mancilla Roofing & Construction today to set up your free roofing inspection!