Top Cobb & Cherokee County Roof Repair by Local Professionals
Best roof repair team in the Cobb & Cherokee County areas.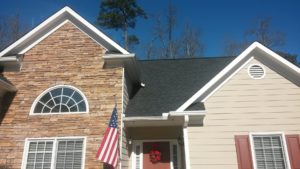 When it comes to roof damage on Acworth, GA homes, Mancilla Roofing & Construction has seen and repaired it all. Inclement weather, extreme temperatures, improper installation of your current roofing system, or the wear-and-tear that comes with age can all spell disaster for the life of your roof. 
"They took care of a roof leak that several others couldn't find. Very knowledgeable." – Y. Smith (Acworth, GA Homeowner)
Staying on top of roofing repairs is necessary in order to get the most out of your roof and protect one of your most valuable assets: your home. Whether you're home is suffering from a mystery leak others have failed to identify, or a downed limb created a gaping hole that needs to be immediately addressed, our team of experts at Mancilla Roofing & Construction have the skill and know-how to solve your roofing problems once and for all. 
Our team of trained roofing professionals can patch, replace and repair any part of your home's roof so you get the most out of your investment. Below, we break down the three most common roofing components that need repair:
Roofing Shingle Damage Repair
Aside from providing your home with a pop of color and/or texture, roofing shingles are individual roofing elements that provide a protective barrier over the basic plywood foundation of your roof. 
Shingles are installed in an overlapping fashion in order to create a protective shield from heavy winds and rain.  When installed and maintained properly, roofing shingles can drastically enhance the longevity of your roof, which is why it's so important to have the integrity of your shingles inspected regularly and repaired when necessary.  
If your Acworth, GA roof has recently been subjected to hail, high winds, or large tree limbs, you may have leaks and not even know it. A compromised shingle will allow water to penetrate at a slow rate. The water soaks into the roof deck causing soft spots and wood rot. If the problem is not addressed, it can drastically reduce the remaining life of your roof. 
Don't let a little leak become a big problem down the road. If you are concerned your roof has suffered damage from impacts or the elements, don't hesitate to call Mancilla today about our Acworth, GA roof repair services. Inspections are free, and should you need a repair, mention this page on our site and you will save $50 on your roof repair of $250 or more!
Flashing Damage
Flashing, also known as weatherproofing, is an element of your roof made up of impermeable materials that help keep moisture out, preventing leaks from forming. Where a roof may need flashing installed depends entirely on roof type.
Flashing is primarily found in the valleys, edges and joints of the roof. Another way to think about it: anywhere there is a break in your roofing system (caused by pipes, chimneys, skylights, or dormer windows) should have a proper flashing. Flashing can be damaged from age or extremely cold temperatures that cause the flashing to crack, curl upward, or settle and reform into the shape of the house. This calls for expert roof repair to fix your Acworth, GA flashing problem.
These shifts and changes in the flashing material compromise the seal and eventually, lead to serious water damage of the roof's foundation. Although flashing damage can be a serious problem, the good news is that's it's a fairly easy fix.
If you haven't had your roof flashing recently checked out, our team of roofing inspectors are experts at spotting flashing damage. We'll work with you, your schedule, and your budget to fix the problem quickly, giving you peace of mind over your home investment.
Fascia / Soffit Damage 
Although fascia and soffits provide a finished look for your home, they are actually integral parts of your roofing system. Fascia is a straight, longboard, usually made of wood that makes up the lower edge of a roofline. For home's that have gutters, the fascia is the piece of wood that those gutters are mounted to. 
Soffit, whose root word come from the French meaning, "fixed underneath"are primarily made of vinyl, aluminum, fiber cement or steel material and provides a cover for the eaves of your roof. Together, the fascia and soffit help protect the roof and walls of your home from moisture while also keeping unwanted critters out of your attic. 
A roof's fascia and soffit can become damaged from excess exposure to sun and rain; these elements can eventually cause the wood of the fascia to dry rot and crumble. Squirrels or other small pests can make this damage worse by gnawing on the dry rot, excellerating the extent of damage. This kind of damage requires a skilled Acworth, GA roof repair team with woodworking knowledge to repair quickly so as to avoid possible greater costs down the road.
Once the fascia is compromised, moisture will begin to seep in and get stuck between the fascia board and the soffit, not allowing for proper ventilation between the house and the roof. If left untreated, this moisture can wreak havoc on your entire home. From major mold problems and pest infestations, to wood rot that can run the entire length of the fascia and extend even into the wood framing of your home. 
Our roofing professionals have the expertise to spot fascia and soffit damage before it takes over your entire home. — Our experienced professionals at Mancilla Roofing & Construction can provide you with a repair estimate within 72 hours. If you're looking for superior workmanship, friendly service, and honest pricing, Mancilla Roofing & Construction has you covered. Call today to set up your complimentary inspection!
Storm Damage to Your Roof
Sever weather such as hurricanes, tornados, or hailstorms can cause extensive damage to your roof. Fortunately, our team knows exactly how to handle these types of repairs. If you live in Cobb County, Cherokee County, or a surrounding area, and your home has been damaged by a storm, give a us a call so we can come take an immediate look. We'll need to assess the damage and act quickly before your home suffers further damage. We can help you respond quickly too and repair storm damage such as: 
Treefall Roof Damage
Tree Limb Roof Damage
Wind Roof Damage
Hail Roof Damage
When your roof has suffered storm damage, it is critical for measures to be taken to repair or replace your roof quickly. Any delays with getting storm damage repaired can lead to expensive damage inside your home itself, such as water damage, mold damage, fire damage, and insulation damage. The good news is, your home insurance will often cover the cost of the roof repair or roof replacement if the damage is storm related. Once we've done our inspection and helped you deal with immediate danger to your home, we can advise and help you in process of making a claim with your insurance company. 
Contact Us Today for a FREE Estimate!