Unparalleled Exterior Home Services In Cobb & Cherokee Counties
Skylights, siding, fascia and other exterior home improvement services.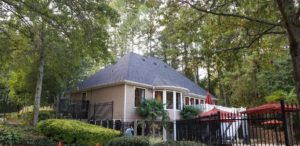 Our entire goal at Mancilla Roofing & Construction is to provide exceptional customer service with unparalleled workmanship, no matter what the project may be.
Just like the shingles on your roof, every aspect of your home's exterior has a shelf-life. So in an effort to make our customers lives a bit easier, we offer a wide variety of roofing-adjacent home repair and remodeling services for the North Metro Atlanta area.
By working with only one contractor, you'll simplify your exterior home renovation and save money on your projects.

Preventative Maintenance
As human beings, we have to take ourselves to the doctor at least once a year to make sure everything is in tip-top shape, as well as to address any areas of concern before they spiral out of our control. Our homes are no different.
Having your home's exterior inspected and maintained at least twice a year, usually in the Spring and Fall, is a great way to ensure that your investment in your home or commercial property is being properly protected.
Leaving your roof covered in leaves or small branches can make your roofing system susceptible to damage and could affect the integrity of your home. That's why our roofing crews provide complete roof clean off and gutter clean out services, so your house always looks and feels great!
On top of regularly cleaning off the top of your home, Mancilla Roofing & Construction also provides regular Inspection Repair Reports. We do this so homeowners can better plan for big projects coming down the pipe instead of being caught off guard.

Siding and Fascia Repairs
The exterior of our homes easily takes the biggest beatings day to day. From extreme temperatures, harsh winds and pounding rains, it's no wonder home exteriors need regular maintenance and repair.
Even if your roofing system is brand new, it's important to be able to spot siding, soffit, or fascia damage. In addition to your roof, these three exterior components are vital to the integrity and efficiency of your home. When left damaged, they can spell disaster for the life of your home.
Our team of highly trained home improvement craftsman deliver quality siding repair and replacement, as well as detailed fascia and soffit work.
From siding repair and replacement, to fascia board and soffit work, our team of highly trained home improvement craftsmen can deliver quality work at a reasonable price.  

Skylight Services
One of the best ways to add value to your home is by introducing more natural light into the darker spaces of your home. Skylights are a wonderful way to accomplish that goal without having to break the bank or completely restructure the layout of your home's interior.
Skylights can add warmth and light while also keeping your home as energy efficient as possible. Whether you're looking to have a skylight installed, replaced, or removed, the Mancilla Roofing & Construction team of highly trained experts is ready to work with you and your home.
Chimney & Ventilation Services
Keeping your home covered is about a lot more than just making sure your roofing system is in excellent working condition. Staying on top of attic and chimney services can help ensure that your home has proper ventilation while shoring up all entry points to keep critter infestations out of your nightmares and home.
We provide chimney cap and pan installation and maintenance so confused birds or squirrels don't find themselves inadvertently on the BBQ menu during the next cold snap.
Your home's attic space is also vulnerable to infestation, as well as air-flow problems. Our roofing teams are experts at inspecting and repairing attic flashing so your vital storage space remains dry and animal free.
Living in the South, it's important to make sure your home is as energy efficient as possible, which is why we provide complete cross tie ventilation services.

Start the Conversation!
Our roofing professionals here at Mancilla Roofing & Construction can work with you and your home's unique needs. If you're in the North Metro Atlanta area and are looking for superior workmanship, quality customer service, and honest pricing, call Mancilla Roofing & Construction today to set up your free roof inspection!
"I just had the whole roof done. They did a good job, above and beyond what was expected. No add-ons or changing the price. I would recommend them. Very happy with the work." – Nancy.
Contact Us Today for a FREE Estimate!